[As seen on Vancouver Tech Journal ] A second life for chopsticks at ChopValue
In the last of a three-part series on circular economy technologies, we find out how a startup produces tabletops, homewares, and art from disposable wood.
It's a sunny day in Vancouver, and you've just finished a meal of takeout sushi, complete with plastic takeaway containers, empty soy sauce packages, and wooden chopsticks. You walk over to throw away what's left of your meal, but you stand before the waste collection bins, mildly dumbfounded — which of the items go into the recycling, or garbage, or compost? And what happens to it all afterwards?

Investigations in recent years have found that plastic recycling actually perpetuates the production and sale of more plastic, with less than ten percent of plastics we use originating from recycled sources. But wooden chopsticks around the world could see a more sustainable fate in the form of tabletops, coasters, and charcuterie boards, thanks to Vancouver's ChopValue.
From used product to new product
You may have already come across ChopValue's collection bins at sushi restaurants and food courts in Vancouver, with about 500 restaurants on board across the region to gather used, wooden chopsticks. From here, the chopsticks are brought to the startup's micro factory in South Vancouver, where they undergo a proprietary process to become consumer products.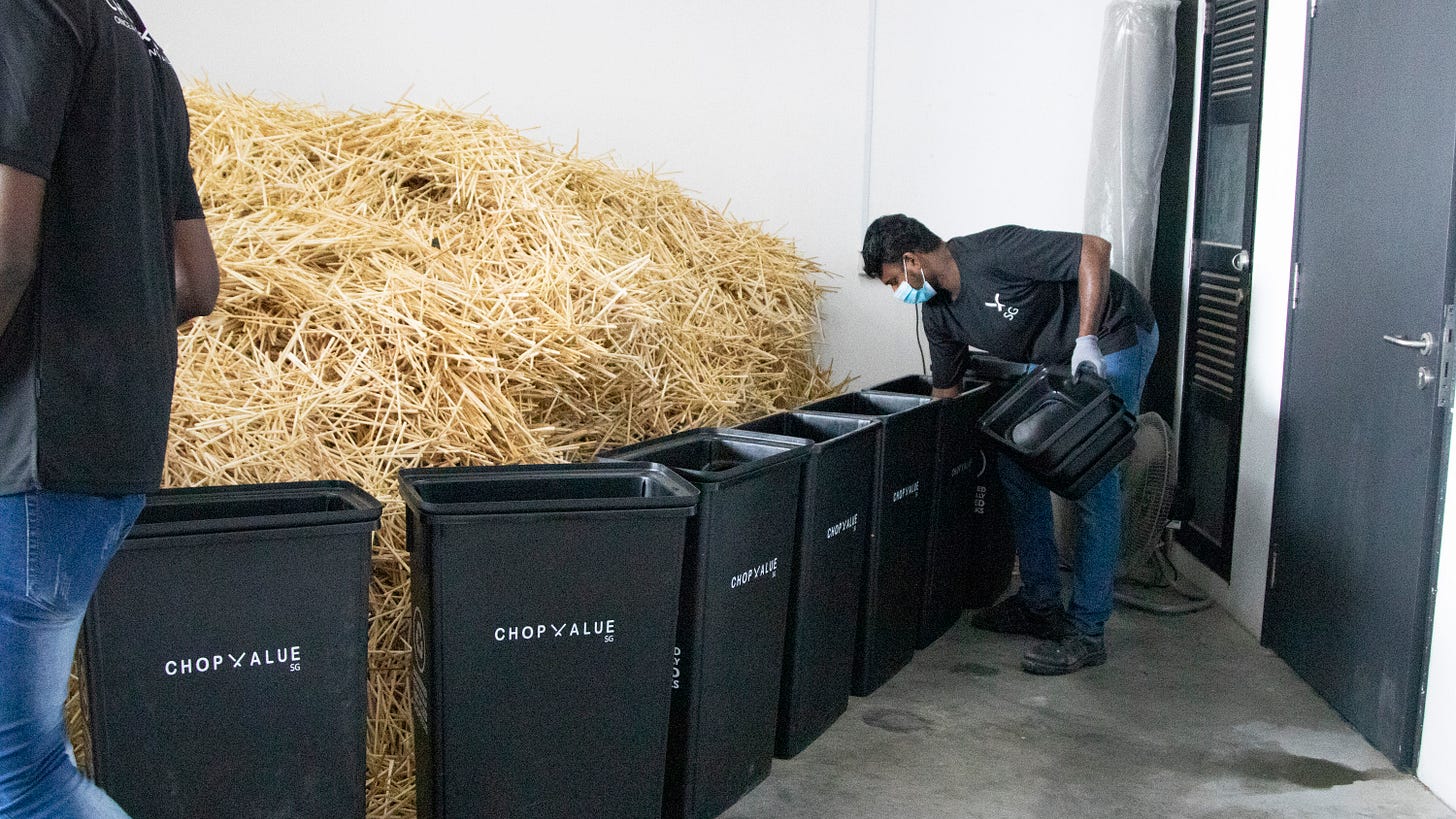 "The chopsticks go onto a shaker table, which is something that vibrates at super high frequency — it gets rid of all the [items, such as] food," said Sabrina Kon, head of community and impact at ChopValue. "Anything that isn't removed [from that process] is then removed by hand by our staff."
What follows is a water-based treatment and drying procedure which prepares the chopsticks for a hydraulic press, shaping the wood into tiles. These tiles are the foundation of ChopValue's products — they can be cut, shaped, and glued together to create kitchenware and furniture. ChopValue sells these goods to retailers such as Hudson's Bay, Canadian Tire, and specialty stores, but also closes the loop with their restaurant partners.
"What we mean by closing the loop is essentially collecting chopsticks from restaurants and then selling our table tops back to the restaurants," said Kon. "At Pacific Poke, they've got all of our tables. You can go in and actually see the chopstick material there."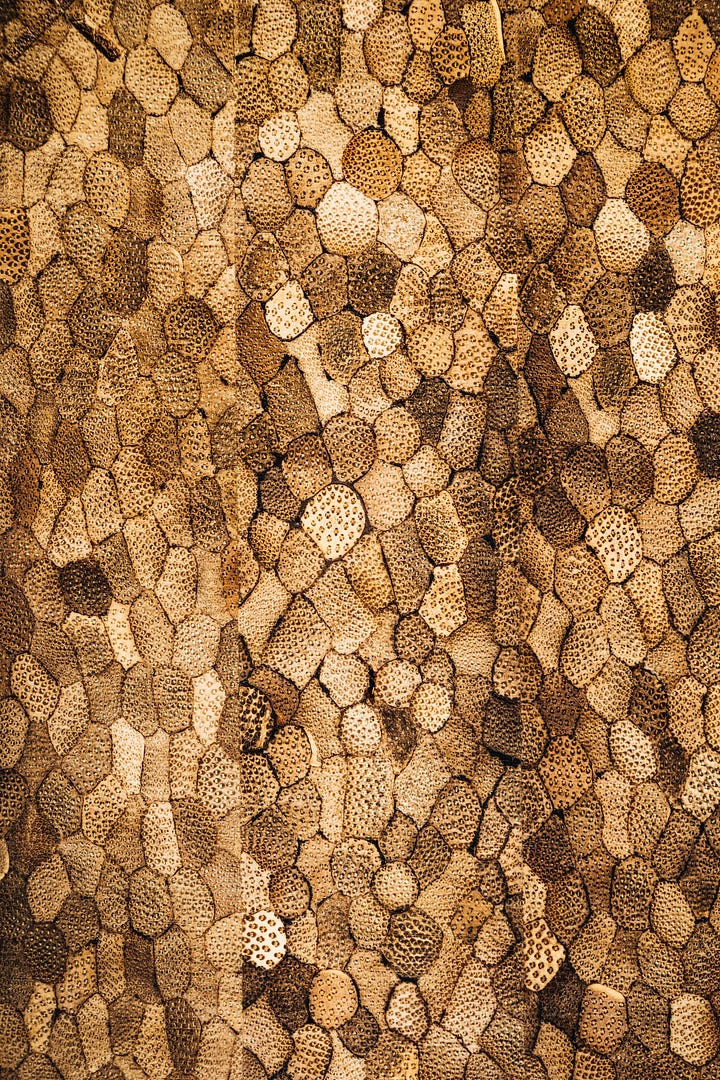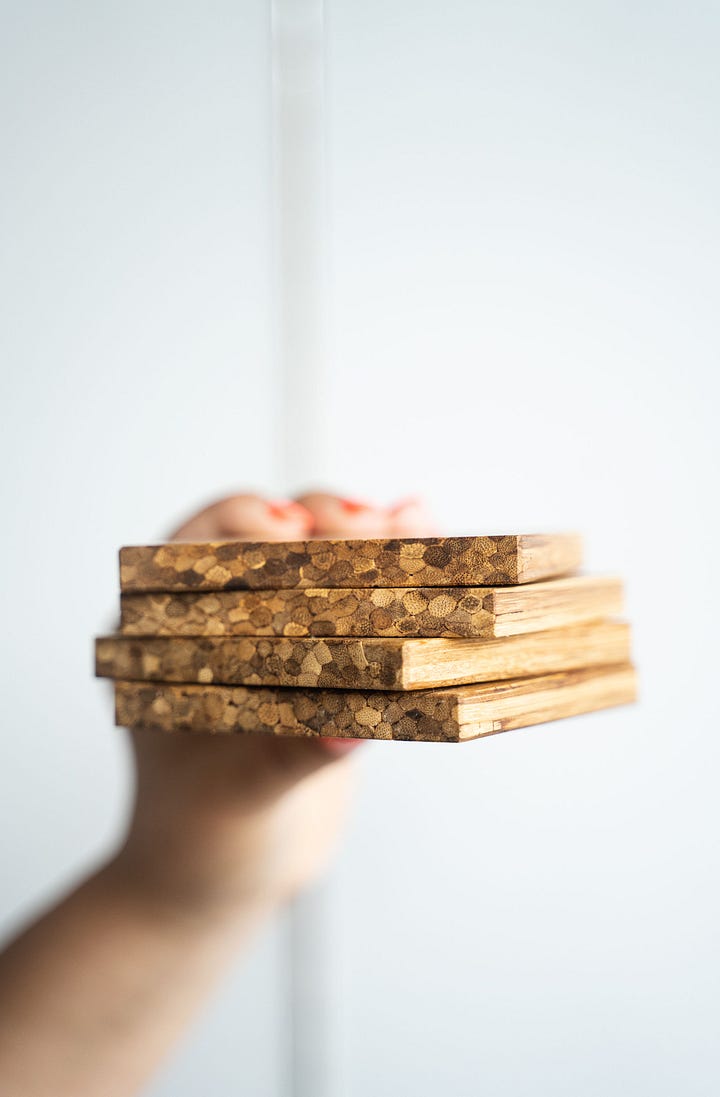 Cross sections of the prepared tiles of processed chopsticks. Photo: ChopValue
Scaling beyond vancouver
Unique to ChopValue is the startup's franchise model, which allows for its microfactories to form in other parts of the world. The company provides training and equipment to support franchisees to open a microfactory in their region. It's a key source of revenue for the company, alongside its sales through e-commerce and strategic partnerships.
Go deeper: ChopValue announces $7.7M in growth financing

"Typically, when you think of franchising, you might think of fast food restaurants like McDonald's," said Kon. "We noticed that there isn't really a franchise out there that encourages people to get waste from their local city, produce it into something, and then sell it directly to customers."
Franchising has allowed ChopValue to scale its operations to nearly 10 different locations, with discussions in the works for 65 more around the world.
"We're trying to create this decentralized manufacturing model, where we're encouraging and teaching people to connect communities by signing up restaurants within a 75- to 100-kilometer radius of their city," said Kon. "The goal is to be able to deliver products locally so that we don't have to ship products to Asia or Europe from Canada, as an example."
So where is ChopValue headed next? Kon points out that the Asian market will likely have the largest impact, given the ubiquitous nature of chopsticks in countries such as South Korea, China, and Vietnam. It's a long way from when Kon first joined the company during the height of the pandemic, when concerns about hygiene threatened the business.
"I was hired to see how we could still continue to recycle chopsticks and still grow the program, despite all the skepticism," said Kon. "It's crazy, because I feel like the past few years have just gone so quickly. When I first joined, there was only one location. But now there are so many different ones [...] I know that we're going to be announcing some really exciting locations later this year, so I'm looking forward to that."
or's note: This article previously stated that ChopValue produces bowls — it has been updated to reflect that the company does not produce bowls. In addition, this article noted that ChopValue is in discussions for six more locations around the world. It has been updated to reflect that the company is in discussions for 65 more locations.