As seen on CNA: Meet the Singaporean who turns your greasy disposable chopsticks into beautiful furniture
Entrepreneur Evelyn Hew transforms discarded chopsticks into beautiful furniture for homeowners. (Photo: ChopValue Singapore)
By upcycling such throwaways into home decor items, Evelyn Hew has salvaged 1.2 million used chopsticks over the past five months. CNA Women speaks to the founder of ChopValue in this instalment of our series on women in sustainability.  
If you have eaten at a restaurant, cafe or hospital coffee shop recently, you may be surprised to know that your greasy disposable chopsticks may already be displayed at someone else's house today.  
Perhaps it is part of the wall decor. Or perhaps it is a small table or shelf.  
That is what ChopValue Singapore is about. Twice a week, two team members spend an entire day travelling to 100 restaurants and three hospitals around Singapore picking up our trash – hundreds of thousands of used chopsticks. They then upcycle these into gorgeous furniture.  
Helming this new franchise in Singapore since April 2021 is Evelyn Hew. The 37-year-old entrepreneur imported this sustainable business all the way from Vancouver, Canada.  
"We have always thought that Singapore lacked natural resources. Actually, we do have resources. It is our trash," she said.  
"On a farm, you produce and harvest crops. In a city, where we have so many humans closely packed together, what you produce is waste. If you are creative, you can transform this waste into resources. That is what 'urban harvesting' is about," she added.  
Hew and her team have since salvaged and upcycled 1.2 million pairs of chopsticks from people's dinner plates, saving them from the incinerator.  
FROM SHOPPER TO ECO-ENTREPRENEUR  
Hew was not always a sustainability champion. In her 20s, she was a voracious shopper with closets stacked with clothes, many unworn, with tags still intact. However, having her first child in 2014 prompted her to reconsider the impact of present-day consumption on future generations.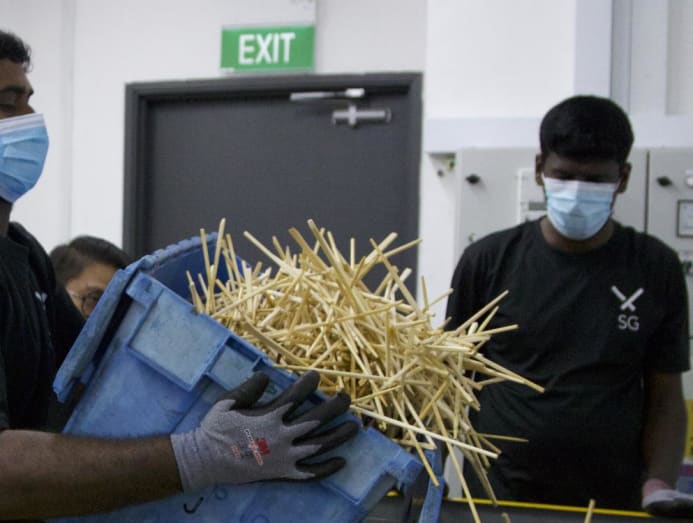 Hew and her team salvage 500,000 pairs of chopsticks from more than 100 restaurants and three hospitals each month. (Photo: ChopValue Singapore)
A year later, in 2015, the serial entrepreneur founded SmartCity Solutions, offering Internet-of-Things (IoT) solutions to public waste collectors to digitally transform the industry.  
"That was when I realised how much waste we are creating," she recalled.  
"As part of our (service), we deployed RFID (Radio-Frequency Identification) tags on recycling bins and witnessed firsthand how badly contaminated they were. If dirty plastic bags or food waste were found in the recycling bin, the entire bin would be contaminated and disposed of," she said.  
This prompted her to search for upcycling solutions that would address the waste and contamination problem.  
One day, she chanced upon ChopValue Canada on Facebook, and learnt about their model for collecting, sanitising and upcycling used chopsticks. Something clicked.  
Chopsticks are a daily necessity in many Asian cultures, such as Chinese, Japanese and Korean. And in Singapore, because of our dabao (takeaway) culture, many use disposable chopsticks.  
"We cut down bamboo, birch and pine to make them, fly them 3,000 to 5,000 km from China to Singapore, and just use them for 20 to 30 minutes. Don't you feel it's a huge waste?" she asked.  
TURNING TRASH TO FURNITURE  
Truly, even new disposable chopsticks have never been considered beautiful or coveted by any stretch, much less soiled chopsticks discarded after a meal.  
However, via a fine-tuned process that combines technology and craftsmanship, ChopValue transforms them into chic minimalist furniture and home decor, each distinct with its unique grain.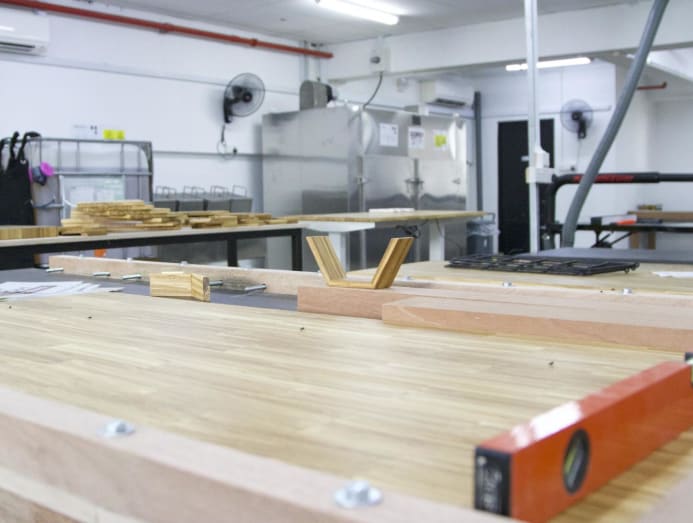 The sanitised chopsticks are transformed into tiles with unique and beautiful grain. (Photo: ChopValue Singapore)
Every piece tells a story of Singapore's food and dabao culture, as well as its own cool sustainability journey, interweaving the dining experience and memories of hundreds of diners. The best part? These waste products are upcycled with minimal water, zero toxins and less carbon emission.  
After collection, the used chopsticks are sent to a micro-factory, coated in a toxin-free resin and baked to 200 degrees Celsius to disinfect them, instead of using water. Then, they are ultra-compressed into highly densified tiles for optimal strength and durability. A single coaster uses as many as 76 chopsticks.  

This Home Office Desk (S$1,288) is made with 9,600 chopsticks. (Photo: ChopValue Singapore)  
Prices range from S$158 for the wall decor set to S$1,288 for the home office desk. Though costlier than fast furniture, such as those made of plywood, they are comparably priced to well-made oak or teak furniture.  
Of course, actual prices also do not reflect the cost to the environment. Upcycled chopstick-made tiles take mere days to harvest and process, as opposed to the 10 to 30 years it takes to grow trees from scratch for lumbering, and the eco-cost of deforestation.  
CHALLENGES OF A SUSTAINABILITY ENTREPRISE  
Hew had to overcome several obstacles to transform vision into reality. As part of outreach, she contacted innumerable restaurants and met many managers with her sustainability pitch, and all in the middle of the pandemic.  
Several rejected the idea because they were concerned it would be time consuming. She was however, heartened by the number of buy-ins.  
Among the first restaurants to join in the chopstick collection were Nara Japanese Restaurant, Yamato Japanese Restaurant and Tatsuya. The three participating hospitals include Singapore General Hospital, KK Women's and Children's Hospital and Sengkang General Hospital.  
Over the past four months, Hew managed to increase the chopsticks collected fivefold, from 100,000 pairs in September 2021 to 500,000 pairs in January 2022.  
However, she would sometimes find other trash in the chopsticks recycle bins. So after collection, she and her team had to sift out sundry items such as used tissue paper.  
Staffing was another problem. "We don't have a lot of factories dealing with woodwork in Singapore, so there were a lot of things we had to learn from scratch from the Vancouver team," she said. 
Unfortunately, COVID-19 got in the way of the knowledge transference. When she booked tickets for the Vancouver ChopValue team to visit Singapore in December last year, they were unexpectedly turned away at Vancouver International Airport. The team had to learn all aspects of production via video calls, including how to adapt the material for Singapore's weather and humidity.  
A CULTURE OF URBAN HARVESTING  
ChopValue Singapore currently has five products on their website, including wall decor items, shelves and tables.  
Over the next few months, they will be expanding their range to 50 products, including smaller items such as handphone and iPad stands, and cheese boards. They also offer custom designs at a slight premium.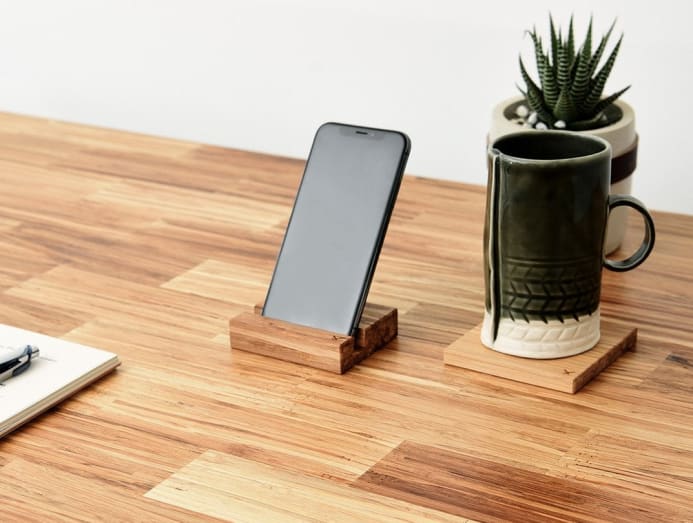 ChopValue will soon be launching new items such as this handphone stand. (Photo: ChopValue Singapore)  

This Wall Decor Set (S$158 for set of six, S$248 for a set of nine) is one of ChopValue's most popular items. (Photo: ChopValue Singapore)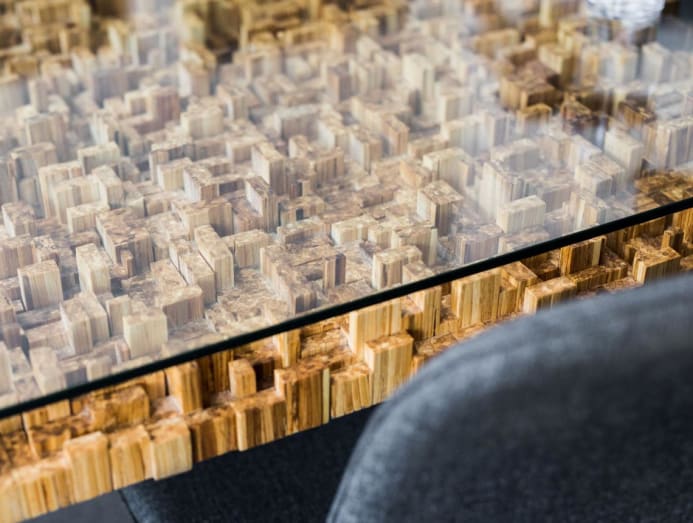 ChopValue also offers custom-made items; previous custom projects made by the Vancouver team include this Zero Waste table. (Photo: ChopValue Singapore) 
Moving forward, Hew also hopes to expand the collection drive to coffeeshops, hawker centres, households and offices by enlisting the help of government agencies, SembWaste, town councils and community clubs.  
Hew's children have been her greatest inspiration on this sustainability journey. The mother-of-three said she often joins her children on bottle recycling campaigns organised by their school and estate, washing the bottles and dropping them into dedicated bins.  

Hew credits motherhood and her children (from left) Jordan, 2; Kiera, 5; and Vera, 8, for setting her on her sustainability journey to create a greener future. (Photo: ChopValue Singapore)  
"I remember a comment from my eldest child Vera. When we dropped off the recyclables, she commented: "Why do I have to do this? Will you buy me a toy if I do?" That is when I realised that it was an actual depiction of the recycling scene in Singapore – people are motivated to recycle when incentivised," she reflected.  
Her goal: To motivate others to upcycle by transforming the humblest of waste materials – disposed chopstick stained with shoyu or char kway teow – into a beautifully designed home collection.  
She hopes it will inspire other businesses to think about other materials from the waste stream that they can work with. "That way, maybe future textbooks will teach that Singapore no longer lacks resources," she mused.  
CNA Women is a new section on CNA Lifestyle that seeks to inform, empower and inspire the modern woman. If you have women-related news, issues and ideas to share with us, email CNAWomen@mediacorp.com.sg.